모두를 위한 미술관, 개를 위한 미술관 / The Museum for All, The Museum for Dogs
신체 풍경 / Body scenery
국립현대미술관 다원미술 2020 / MMCA Performing Arts 2020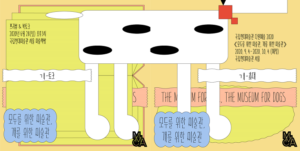 What? Workshop & Performance 
When? 20.Sep-18.Oct 2020
Where? MMCA(National Museum of Morden and Contemporary                                                                                    Arts Korea) in Seoul
https://www.mmca.go.kr/eng/exhibitions/exhibitionsDetailDawon.do?exhId=202001140001243
Frerk, du Zwerg!
Theaterbambule nach dem Kinderbuch von Finn-Ole Heinrich
in Landestheater Württenberg-Hohenzollern Tübingen Reutlingen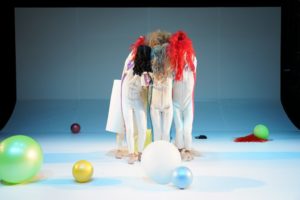 Was: Theater für Kinder (+8)
Wan: Premiere 12. Juli 2019
Letzte Vorstellung 21. Mai 2020
Wo: Junges LTT(Werkstatt)
© Tobias Metz
»Voller grotesker Pointen, hebt das Stück schließlich vollends ins Phantastische ab. Als wollte es zeigen, was der Zauber der Bühne bewirken kann, selbst in scheinbar aussichtsloser Lage.«
(Schwäbisches Tagblatt, 15. Juli 2019)
Regie, Kostüme: äöü(Johannes Karl/Patricia Bechtold)
Bewegungsregie: Jung Sun Kim
Musik: Valentin Riegger
Ausstattungsassistenz: Pauline Wagner
Video: Team LEN (Viviane Lennert / Stella Lennert)
Dramaturgie: Michel op den Platz
Regieassistenz: Ivonne Gläser
Inspizienz: Matze Hupel
Theaterpädagogik: Luisa Mell
mit: Jonas Breitstadt, Rupert Hausner, Insa Jebens, Elias Popp, Kristin Scheinhütte
Fotos: Kerstin Porges, Tobias Metz
Unforeseen _ 2016 Multi-Arts Project _ MMCA X KNCDC Performance
There is no landscape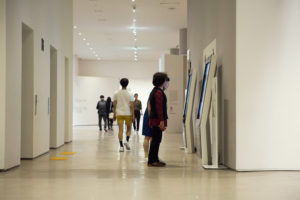 What: Performance in Museum 
When:2016
Landscape occurs with the premise of the object of appreciation. This work moves forward to the realm where sense of touch is exercised than the visual and experience rather than appreciation. By operating phenomenon and sense incurred through the repetition of body and sound in time lag, it transforms the relationship of space and human, object and subject and reveals the procedure of re-contextualizing regulated context. the elements composing the characteristics of the place are effaced, the features of placed material alternate and thus explore the unforeseen moments, producing new spatiality. Any place becomes the space of their own according to the relationship established between performer and audience, the state of performer and audience and the opportunity of sound through live stream. At last, the three designated spaces within the museum for this work are transformed into the unfamiliar, unrest space beyound the existent awareness.
https://www.mmca.go.kr/exhibitions/exhibitionsDetail.do?exhId=201608020000472