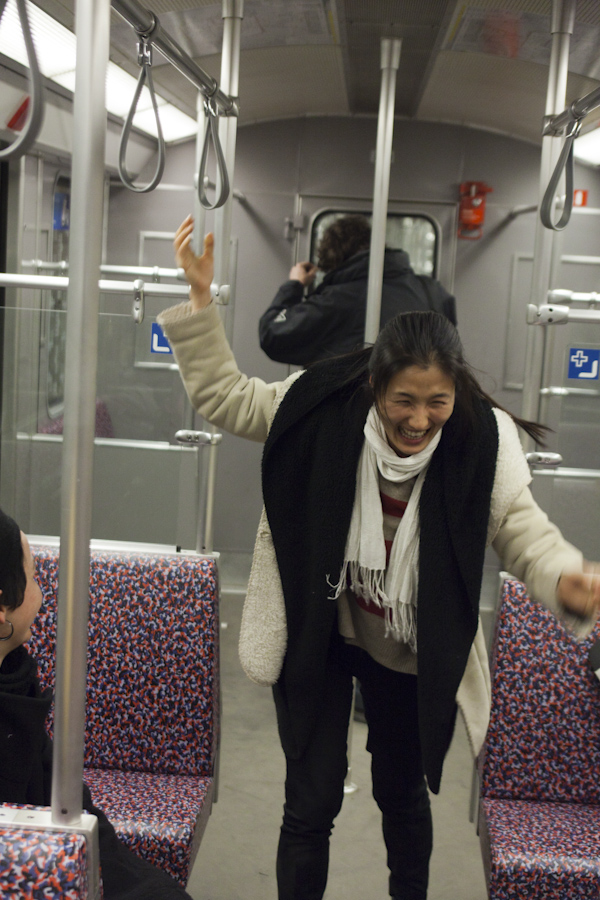 Jung Sun Kim, born in Seoul, Korea
1984 -1990 Traditional Korean dancer with "The Little Angels" who are seen as ambassadors for Korean dance culture. They had numerous performances in Asia, in the Soviet Union and in 1988 at the opening of the Olympics in Seoul. 1994-1998 BA studies in Korean Dance at the Ehwa Womans University and 2002 MA in Choreography at the Korean National University of Arts (KNUA) and dropped out in 2004. Since 2006 she lives and works as a dancer and choreographer in Berlin and Seoul. She completed her M.A. in choreography at the Hochschulübergreifendes Zentrum Tanz(HZT / UdK) in Berlin.
She worked as a dancer with "Daegu City Dance Company" , "Ahn Eun-Mi Company" and Chorepgraphed with various theatre groups including "Korea National Opera","Yohangzatheatre(Physical theatre)".
She is been exploring  every arts field to look for her own unique expression and researching korean traditional dance as a root of her dance. Between the physicality of the body and the perception of the interaction with the body she is looking for the authentic movement and is still interested in the movement of different bodies. How she encounters the story of the other body and how she can reflect her perspective again and again. It brings her to her work with the repetition and trust herself to always try to start from 0 points. For example, in 2014-2015 she has made two productions between 14-21 years people who have no experience with dance. And her work continues with amateur and professional dancers together to ask the questions what is the liveliness on stage and what one learns and empties?
Currently she has worked with a musician Matthias Erian on her own piece "Solo for Lauf" and a production "There is no landscape" has been invited by a collaboration project between "KNCDC(Korea national contemporary dance company)-MMCA(National Museum of Modern and Contemporary Art).
In 2007 she founded the Sun Day Project out of her interest in interdisciplinary interactions (between dance and exprimental music, stage design, opera, interactive art, theatre).
www. sundayproject.com
______________________________________________________________________________
Jung Sun Kim, geboren in Seoul, Korea.
1984 -1990 Traditionelle koreanische Tänzerin bei "The Little Angels"  die als Botschafter für koreanische Tanz-Kultur gesehen werden. Sie hatten zahlreiche Auftritte in Asien, in der Sowiet Union und 1988 bei der Olympiade Eröffnung in Seoul. 1994-1998 BA Studium des Koreanischen Tanzes an der Ehwa Womans University und 2002 MA Choreographie an der Korean National University of Arts (KNUA)und 2004 abgebrochen. Seit 2006 lebt und arbeitet sie als Tänzerin und Choreografin in Berlin und Seoul. Sie absolvierte ihren M.A. in Choreographie am Hochschulübergreifendes Zentrum Tanz Berlin (HZT/UdK)in Berlin.
Sie erforscht jedes Kunstfeld, um nach ihrem eigenen einzigartigen Ausdruck zu suchen, und erforscht den traditionellen koreanischen Tanz als Wurzel ihres Tanzes. Zwischen Physikalität von Körper und die Wahrnehmung mit die Wechselwirkung kommt dadurch den authentische Bewegung sucht. Sie interessiert sich noch die Bewegung von verschiedene Körper. Wie sie die Geschichte vom andere Körper begegnet und ihre Perspektive immer wieder reflektieren kann. Es bringt sie zu ihrem Arbeitfasse mit der Wiederholung und sich vertrauen damit immer wieder versucht von 0 punkte zu anfangt. z.B 2014-2015 hat sie zwei Produktion zwischen 14-21 Jahre Leute gemacht wer kein Erfahrung mit Tanz hat.Und ihr Arbeit geht weiter mit Laie und Professionelle Tänzer zusammen um die Fragen stellen was die Lebendigkeit auf dem Bühne ist und was Man lernen und entleeren?
Derzeit hat sie mit einem Musiker Matthias Erian an ihrem eigenen Stück "Solo for Lauf" gearbeitet und eine Produktion "There is no Landscape" wurde von einem Kooperationsprojekt zwischen "KNCDC (Korea National Contemporary Dance Company) -MMCA (National Museum of Modern and Contemporary Art).
2007 gründete sie aus ihrem Intresse an interdisziplinären Wechselwirkungen(zwischen Tanz und exprimental Musik, Bühnenbild, Oper, Interactive kunst, Theater) das Sun Day Project.
www. sundayproject.com